Filling seats in the venues means more than offering tickets at a reasonable price. It's about knowing your fans and the different segments of opportunities to create different experiences for everyone, across both physical and digital. This requires contributions from stakeholders across marketing, ticketing, partnerships, operations, and more.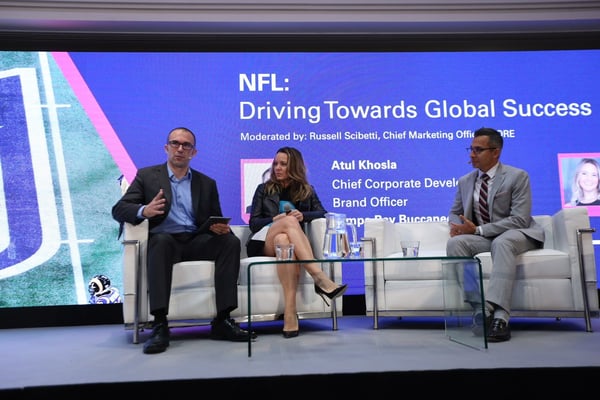 Leaders Week in London connects senior industry leaders around the globe to create conversations focused on the future of sport, and nothing drives the future of the industry more than knowing our fans and creating those memorable experiences.


'Fans in the US expect to be entertained, it's about the entire experience'@StarkeyMeredith on @Panthers fans expectations.#LeadersWeek pic.twitter.com/qnlVkalc01

— LEADERS Business (@LeadersBiz) October 9, 2019

In the latest episode of Inside Sports Business Intelligence, we had the good fortune of moderating a discussion at Leaders Week with Atul Khosla, Chief Corporate Development and Brand Officer for the Tampa Bay Buccaneers and Meredith Starkey, Chief Marketing Officer for the Carolina Panthers.
They joined our Marketing Stage session to talk about:
The global growth of the NFL
Building fan-centric culture
Creating unique and differentiated experiences
Managing both live and digital fan engagement
Driving value partnerships through data and personalization
The importance of analytics moving forward
.@atulkhosla discusses the @Buccaneers's number one competition for fan attention and entertainment spend.#LeadersWeek pic.twitter.com/imicInITcy

— LEADERS Business (@LeadersBiz) October 9, 2019

You can find this interview, and many more like it, by subscribing to the Inside Sports Business Intelligence show on your favorite podcasting platform. If you enjoy the show, please leave a rating and review!