Pretty much every sports property uses the concept of the sales funnel in looking at how they can grow their plan holder base:
Convert your non-buying fans to single game buyers
Convert your single game buyers to mini-plan buyers
Convert your mini-plan buyers to your half-season buyers
Convert your half-season buyers to your full-season members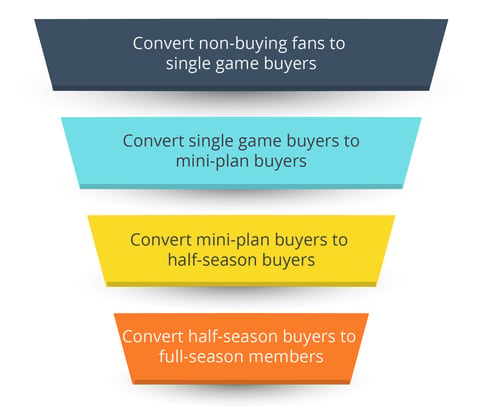 The logic is simple and it works. The exact series of steps may vary based on the type of packages you offer (e.g. baseball teams have a LOT more partial plans than football teams) and of course there is an upper-limit for many customers that no amount of upselling will overcome. However, if you look at the conversion rates in your sales data, inevitably you will see the most success from this form of step-wise approach.
I was thinking about this sales funnel strategy the other day in connection with retention and was wondering, with all the emphasis we place on the upgrade process, how do teams handle the downgrade process?
Downgrades aren't something teams like to think much about, as they come with that negative connotation. Of course a decrease in revenue for an existing customer isn't a good thing, and we want to do the best we can to retain at the same level, but at the end of the day, a downgrade is better than losing the customer outright. If we are expending all our effort on retention and the customer still doesn't want that full-season plan anymore, are teams doing their best to find a landing spot in the downgrade path?
When in doubt, we should look at the data! I've taken some anonymous data blended across teams from varying sports, and what I've found tells an interesting story:
What it seems like from some initial investigation is that when a customer decides not to renew, they are way more likely to completely disengage from buying any type of plan than move to a lower level of commitment. This specific dashboard would show:
Over 10% of last year season ticket members not only canceled their full membership, but didn't buy ANYTHING directly from the team
While 14% of half season buyers upgrades to full season memberships, 7.6% dropped all the way back to single game tickets and almost 20% didn't buy any primary market tickets
They also churned 88% of their primary market single game buyers from last season
To me, analysis like this can present tremendous opportunity for teams:
First, identify if we have a revenue opportunity via a downgrade strategy, and if so, how much value does it represent
Similar to retention analysis, identify what commonalities exist between non-renewing members that do vs. do not downgrade
Work with the sales and service team to decide on the right timing and incentives, both for staff and the customer, to pursue a downgrade option
At the end of the day, your sales funnel can't be viewed as a one-way road. Some customers will need to migrate between options, and the numbers show that if you don't think about the downgrade path strategically, those customers may simply leave you. Take a look at your own sales data (we can help if you need it), and I believe that you'll see an incremental revenue gain by retaining these fans, albeit at a lower price level, than losing their engagement altogether.
LOOKING FOR DATA ANLYSIS AND STRATEGY HELP? CHECK OUT WHAT OUR KPI SERVICES COULD DO FOR YOU.