As we continue to revolutionize sponsorship recaps, we added the ability to connect your Tableau workbooks to your individual sponsorships. Connecting to Tableau improves partner engagement by making it easy for your partners to access reporting and recaps. Inviting partners into the platform also provides live access to their own impressions, media value, and performance metrics throughout the season.
Prior to the Tableau connection, external partners couldn't view reports on their own. Reports were manually sent which was time consuming and prevented true partner collaboration.
Syncing your Tableau workbook that's within our Tableau server to each deal enables a new "Insights" tab with reports that partners can access anytime. Since your Sponsorship team is already working to manage and track activations, this new feature makes it seamless to surface the information to each partner.
A sports and entertainment company recently started using this feature with more than 10 of its partners. Each of them was provided with their own portal to view the progress and performance of their assets. Providing transparency into real-time results helped increase overall partner engagement and satisfaction.
CONNECTING TABLEAU TO DEALS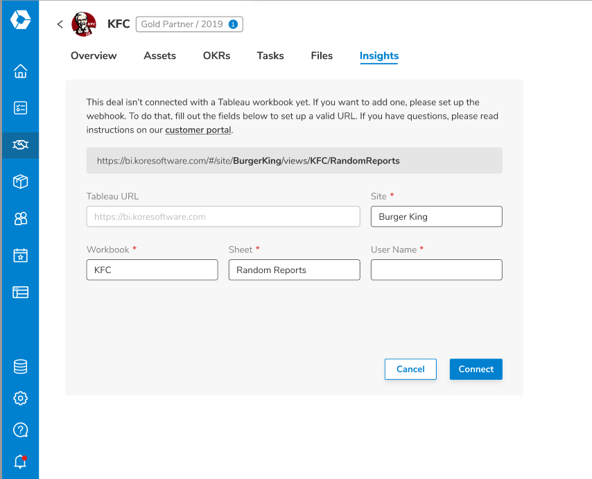 REPORTS AVAILABLE FOR PARTNERS TO VIEW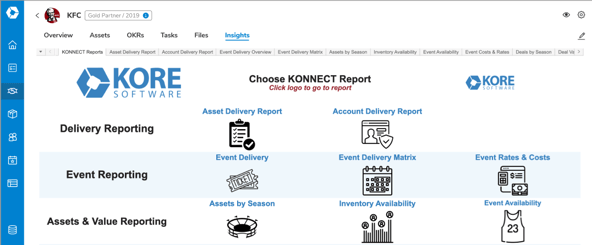 Already have KONNECT and a Tableau server with us? Contact your Customer Success Manager to start using this new feature today. If you'd like to learn more, request a free 1-hour demo here.

Leonella Baudino // Product Marketing & Communications Manager, KORE Software

Patrick Westbrook // Product Owner, KORE Software