Throughout a business' lifecycle, there come times when the company needs to experiment and creatively change their practices and structure. Sports and entertainment companies are no exception, especially given the ever-changing landscape of live events and how fans engage with them. Sometimes, this change takes the form of a department reset or reorganization—an inward look at the company's hierarchy and how to optimize resources.
Through our partnerships with numerous teams and entertainment companies around the world, we at KORE have seen various structures and reporting chains. Although they vary with organization size, the particular market, and other factors, we've observed two general frameworks among sponsorship departments: lean and broad.
Lean departments
Lean departments utilize shared resources across multiple departments. They typically consist of sales and account management teams, each reporting to the head of the sponsorship department. Other roles—such as Business Intelligence (BI), Operations, Customer Relationship Management (CRM), and Content Creators—are often found in other departments which support the entire organization. Sometimes, they may even be outsourced to vendors or agencies.
A lean structure allows the company to save on costs and speak in a more unified voice since everyone is sharing the same resources. At the same time, it causes the different departments to compete for the same resources while they might have different priorities. It is best suited for smaller organizations: these might be "small market" teams or single-property organizations.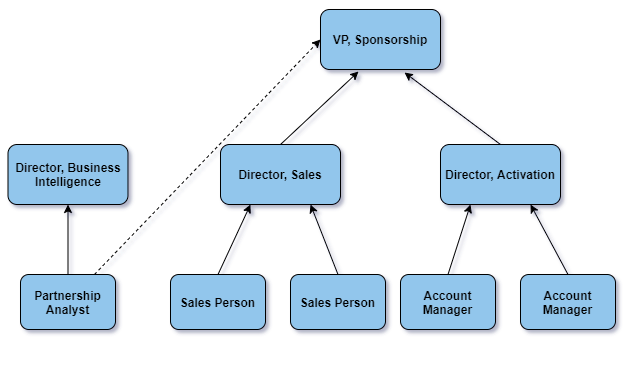 Broad departments
Large, global brands and organizations (like FC Barcelona or the Golden State Warriors) may find a lean structure to be overly limiting. Broad sponsorship departments typically have resources dedicated to expansion, partner retention, and data analysis.
Often, there are tiers of sales and account management teams: more senior individuals close new deals and manage the more sensitive or marquee accounts, while junior members support those efforts. In addition, these internal teams often have individuals responsible for generating sales decks, recaps, and supporting data.
The largest international brands (such as Manchester United or Liverpool) may invest in regional offices to tailor their message around the world, just as any major corporation does to expand into new markets. The broad structure allows for a variety of specialties among individuals and more defined priorities within the sponsorship department.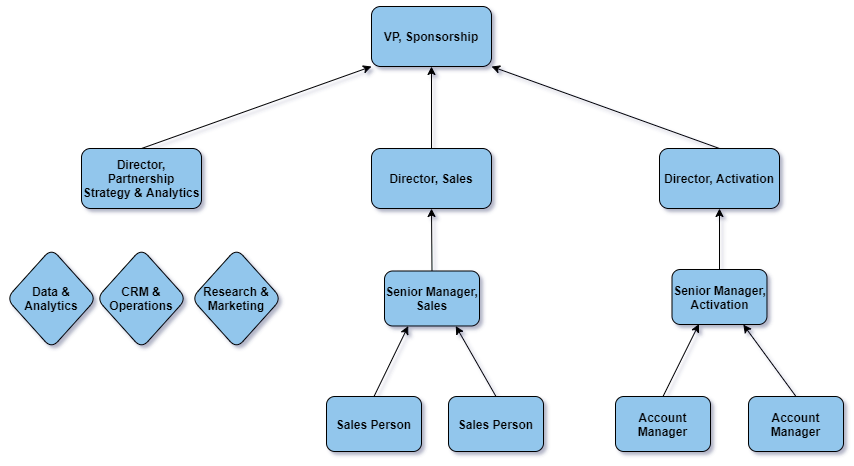 Impacts on decision making
Sponsorship deals commonly include assets from other departments—perhaps suites from the ticketing department or media access from the broadcasting team. The greater the distance between these business units, the less collaboration you typically see. This can lead to preventable mistakes such as double-selling suites and other distressed assets.
Smaller rightsholders, especially in the EMEA and APAC regions, tend to merge their sponsorship and suites & premium departments since there are many collaboration opportunities and so much overlap in those corporate agreements. This may lead to a smaller ticketing staff since the more valuable ticketing needs are being covered by the sponsorship group.
Bonus Feature - Brands' Sponsorship Structure
We would be doing a disservice to the entertainment industry if we failed to address the brands that help make the industry what it is today. Between 2019 – 2020, KORE's industry data showed about 30,000 unique brands getting involved in sport & entertainment. There is a very safe argument that department structures will vary across brands.
Some common themes we see with brands is how their internal efforts can be split among different types of partnerships. If a brand were to partner with a national events company, a local festival, and multiple sports teams, each of these verticals might have a dedicated project team. In addition, brands often work in tandem with a third party or agency to manage their activations and deliverables at each of these events.
Most recently we are seeing brands increase their focus on financial and business analysis across partnerships. This can partially be attributed to the increase in data and managing this influx of data becomes very valuable for measuring deals against each other and future decision making.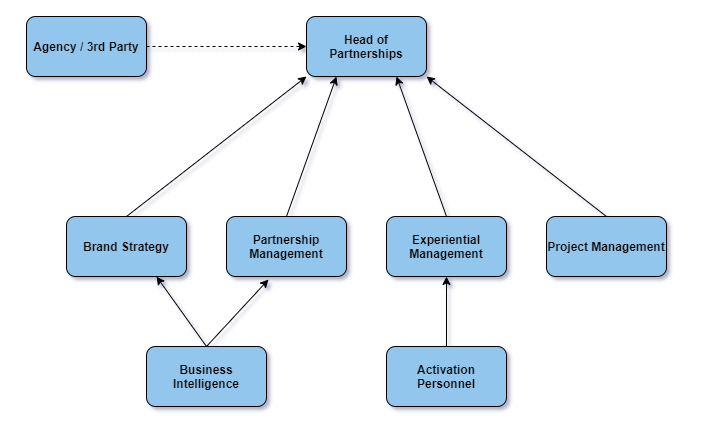 Summary
Resource allocation is also a huge driver in decision making. If there is no sponsorship analyst and the department relies on shared BI staff, this could limit the ability to quickly change a strategy based on the business needs. It may also foster a culture where teams serving the wider organization focus on development and technology rather than business objectives. On the other hand, freeing the sponsorship department of these duties can encourage more focus on revenue recognition and expenses.
Although their goals are similar (or even identical), no two organizations are the same. We've observed that the most successful sponsorship departments consistently collaborate across the business. Regardless of whether your organization takes the lean or the broad approach, fostering these internal partnerships is crucial.
Is your organization considering a structural change? The KORE Planning and Insights team would love to chat about how we can help you find the ideal structure for your needs. Request a free consultation to see how our consulting services can help!

Dan Smith // VP, Customer Strategy & Success, KORE Software
Dan Smith is the VP of Customer Success & Strategy at KORE Software. Wearing many hats, Dan oversees all client relationships, consults on best practices, and enjoys a light roast or cold brew to get through his mornings.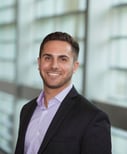 Jordan Rutner // Research Marketing Manager, KORE Software
Jordan Rutner is the Research Marketing Manager at KORE Software. Along with market research, Jordan performs industry analysis, content strategy development, and enjoys Sunday afternoon ballpark franks.