Over the past several years, sports teams and leagues have grown large followings on social media, generating more brands interest in creating digital partnerships in the sports world. Recognizing this trend, sports properties are creating ways to monetize their social media assets.

Due to the total reach and engagement generated through social media and video posts, we've seen the number of corporate partnerships that include digital assets soar. For many teams, Social Media assets are their entirely own category with some of the most creative and effective activation around.


What's so great about social media sponsorship assets?
Deeper Fan Engagement

Many teams have realized that fans demonstrate deeper engagement with high quality content. The value of simply putting a logo on an image is decreasing and fans are now expecting unique, creative, and most importantly, authentic content to showcase partnerships.

Branded content creates unique and ownable partnerships where brands can tell their story line in the context of a sports organization. This provides the opportunity to drive fan affinity for both the brand and team. For brands, connecting with a sports property increases visibility, and allows sponsors to become integrated within the team's digital marketing matrix.



Trackable ROI

Key digital metrics, such as engagements and video views, now have a higher value than stats on impressions or reach. For example, for a Facebook post, the number of engagements is determined when someone takes an action, such as liking, sharing or commenting on the post, or clicking a link within the post. Engagements have become the currency of social media, showing who is engaged, when, and what was the content, all to drive insights for teams to make more intelligent decisions. Furthermore, social assets provide teams with the ability to showcase direct returns on digital assets and more measurably showcase the value of the partnership to brands. This has allowed brands to have real time 1-1 conversations with consumers.



Discover Fan Preferences

By measuring engagement metrics, teams can discover how fans are responding to their content, which can help them work towards more meaningful partnerships between brands and rights holders. As teams move toward social media engagements, there are more opportunities to direct fans to either team sites or sponsor landing pages. This increases the partnership ROI for both the team and the brand through quality of engagements over quantity.



Year-Round Engagement

Fans engage with social content during both in-season and off-season. As a result, teams have begun to create strategic platforms of year-round aggregation of marketing programs, events, assets and content. This year-round engagement is designed to reinforce and amplify the shared values between the team and the brand, and deliver specific benefits to their target audience. Popular off-season engagements include drafts, schedule releases, and relevant holidays among many other sport specific events.



Improved Fan Targeting

As streaming services and social media rise, teams can build fan profiles and strategically target fans with personalized offers and strategic packages. Teams can segment audiences with specific branded content, so brands are reaching the audiences that matter to them. Social assets have unlocked the ability to generate more fan data and create new revenue streams that allow brands to activate better and add a demonstrable benefit.
Which channels have the most success?
Of all the social media platforms, Facebook is the most effective for the sports world. Facebook's retargeting feature gives properties the ability to follow up with someone who engaged with a post. Additionally, with Facebook, you can take advantage of an additional revenue opportunity by providing a link for fans to go to a landing page where you can offer tickets or merchandise.


Facebook also serves as an authority destination for fans, a place they can go for stories on athletes or games. It also provides entertainment in the form of photo and video content. Facebook can serve as an extension of your website and include information on upcoming events and games while also offering fans insights on what separates your team from the competition.
The NBA is most successful when it comes to social media presence
In the United States, engagements and followings differ significantly by league. The NBA has invested heavily in its teams' digital platforms, which has led to higher likes and engagements. The top four most socially engaged professional sports teams are NBA franchises – Cleveland Cavaliers, Golden State Warriors, Houston Rockets and San Antonio Spurs.
This type of data can help sponsors determine where to put their dollars and which assets may provide the best return. In the NBA, when teams and brands come to the table to discuss jersey sponsorships, the recognition a brand could get from the team's digital assets plays a critical role in the valuation process.


Overall, brands that work with teams and leagues with high quality digital content that generates fan engagement enjoy additional benefits when compared to traditional sponsorships.


While sponsored social media posts can drive revenue for teams and leagues, it's important to be selective with who is providing that content. You many want to only choose partners that align with the identity of your organization.
Examples of best-in-class sponsored social media content
When a brand invests in sponsored social media posts with a team, it's relying on the team to produce high quality content. These sponsored posts can then improve the value of the partnership and bring additional revenue to the team and added value to both the brand and team.
Below are several posts that demonstrate how teams and brands put together a great product.
Chicago Bulls – CDW Corporation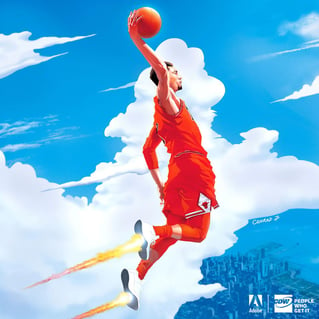 Caption: Tonight, Zach Lavine returns


The Chicago Bulls announced that Zach LaVine would be making his team debut by including a sponsor on its high-quality image. The artist, Conrad Javier, used the Adobe Creative Cloud from CDW Corporation to create the image, further aligning the sponsor and organization.

This is an example of the team adding value to the fan with a high-quality image and to the sponsor by producing a highly engageable post that, with the use of its product, promotes the CDW/Adobe brand. Furthermore, this is an opportunity to use the brand loyalty fans feel towards the Chicago Bulls, and hopefully build and affinity towards the CDW brand through creation of awareness and visibility by the connection to the sports property.
Key Benefit – The Bulls had a 15% increase in shares of this post over the average shares during the past year


Original artwork by: Conrad Javier

This #BullsIllustrated was made with #Adobe#CreativeCloud #CDWcorp — with CDW Corporation.


Los Angeles Lakers – Jack in the Box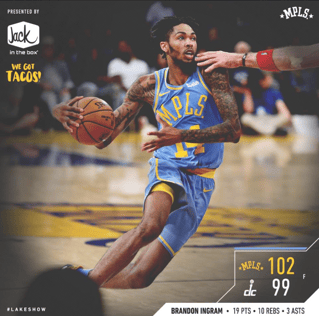 Caption - W. #WeGotTacos presented by Jack in the Box — with Jack in the Box.


The Los Angeles Lakers provide an example of a team taking an in-game promotion – Jack in the Box' offer of two free tacos with a Lakers' win – and extending it to its digital platform. Here is a team finding a spot to make sponsored social media flow seamlessly in their newsfeed and adding value to all three parties – the brand, the fan and the team.

Jack in the Box is extending its sponsorship of the Lakers on to the digital side, promoting their brand to capitalize on the Lakers audience that care passionately about the sports property. Through using a post highlighting a team victory, and showcasing it's in game promotion with the We Got Tacos reference in the upper left hand corner.
Key Benefit – The Lakers had a 74% in total engagements including a 91% increase of likes.
Denver Broncos – Xfinity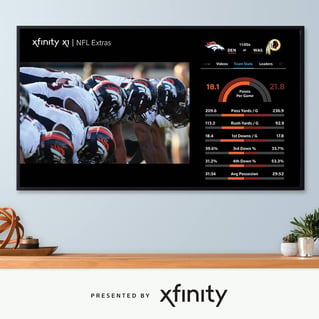 Caption - A third-straight win would make a great Christmas Eve 🎁. Gather around the TV with live stats while you watch#DENvsWAS on Xfinity X1! — with Comcast


The Denver Broncos leveraged their partnership with Xfinity to produce a social graphic recapping the final score and significant statistics. This type of content does well following wins, and is strengthened by its association with Christmas Eve. This is an example of taking a sponsorship integration that is directly relatable to a brand and making it useful to the fan.

The sponsorship provides awareness of the Xfinity brand in the crowded broadcast market, improving the extent and ease fans can recall and recognize the Xfinity service. Also, fans can identify the products and services associated with Xfinity such as the ability to have statistics on the screen next to the live game action.
Key Benefit – The Broncos had a 7% increase in likes of this post over the average likes on posts during the past year


Miami Heat – Corona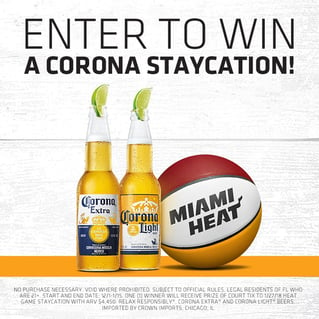 Caption - In Miami, we're always on vacation! 😉 Now we've got your chance to win ✌️ court side seats for our game on 1/27 & accommodations for ✌️ nights in a luxury hotel!#CoronaStaycationSweepstakes! Details: http://gohe.at/2CWmbjB


The partnership between the Miami Heat and Corona provides an example of when both a brand and the team share a common theme and the marketing message aligns with both. This message forms a natural connection through Corona's branded vacation image and the promotion of a unique contest to see a Heat game during a stay-at-home vacation.

The promotion offers a special team related experience, and provides strong psychological reinforcement between the team and a sponsor.
The promotion benefits both entities and fans through its creativity and uniqueness of a "staycation" for the people of Miami who are "always on vacation", the feasibility of the promotion as fans don't have to travel anywhere and can enjoy all the benefits of two nights in a luxury hotel and courtside seats in the Miami area, and finally the incentive for the promotion is enough to motivate fans to enter the contest.
Key Benefit – Drove Fans To Engage With Sponsors Promotion On A Landing Page
---
RELATED CONTENT: