If you're a KORE customer, hopefully you attended last month's webinar where were reviewed the KORE ProSports 12.0 release in detail. Just in case, however, we thought we'd share some of the highlights here to make sure you start taking advantage of these new items.
Fan Finder (KORE ProSports™ Ticketing)
A brand-new tool called Fan Finder has been created to replace the current Campaign Wizard. It will provide all the same features as before but also introduces additional functionality to search, segment and take action on Contacts & Accounts.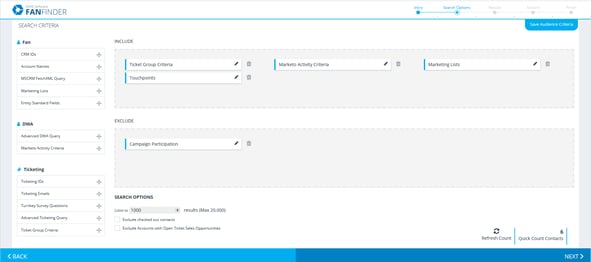 Drag & Drop Criteria Builder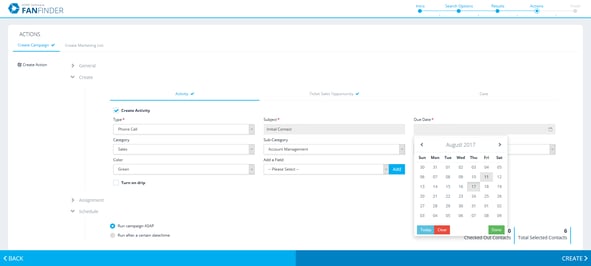 Enhanced Actions & Assigmnet Options
New Tableau Dashboards and Data Sources (KORE ProSports™ Suites & Premium)
A brand-new set of Tableau Dashboards focused on key Suites & Premium functionality is now available. The dashboards include important data points such as event availability, event revenue, add-on tracking & season forecasting.
Support for Latest Version of Ticketmaster Archtics API (KORE ProSports™ Ticketing)
Ticketmaster has released a new set of APIs that allow for access to more data and increased reliability. New data includes donations, more robust historical data, and payment plans, and more. KORE's latest product update includes compatibility with this new standard, and includes architecture upgrades behind the scenes that leverage big data technologies such as Hadoop to help load and process the Archtics data more efficiently.
KORE Konnect™ – BETA (KORE ProSports™ Sponsorship)
With KORE Konnect, you can now effectively collaborate with your partners in an efficient and real-time manner. Konnect provides a central portal to manage your partnership deals and handles all file sharing, approvals, requests and submissions between you and your partners. Since Deal Sheets already exist in KORE, a team can choose to instantly share aspects of the deal with your associated partners and avoid any double data entry into external systems or collaboration tools.
We hope you're ready for this new functionality as we're hard at work on the Fall 2017 release.
If you're a customer and have any questions about these items or other new features, please reach out to your success manager.
Not quite ready to see a demo?
Check out one of our whitepapers or case studies!