If you're a KORE customer, hopefully you attended our Fall 2017 Product Release Webinar. Just in case, however, we thought we'd share some of the highlights here to make sure you start taking advantage of these new items.
In our Summer 2017 release, we introduced a new tool called Fan Finder to provide an enhanced user experience and additional functionality when segmenting & taking action on you customer base. An update has been made to Fan Finder to allow for "dripping" of activities to your staff members. Instead of all distributed activities being due on a single date, which can overwhelm your staff and lead to missed activities, you can now decide to stagger the due dates of the activities to ensure a manageable number is due each day. This new feature is controlled by a feature called "Date Mode".
Date Mode Options:
Single Due Date – All activities due on the same day
Drip by Weekdays – Distribute a # of activities each weekday, ignoring weekends, beginning on a specified date
Drip by Days – Distribute a # of activities each day, weekends included, beginning on a specified date
Drip on Specific Dates – Specify exact dates and a percentage of activities that should be due on each specified date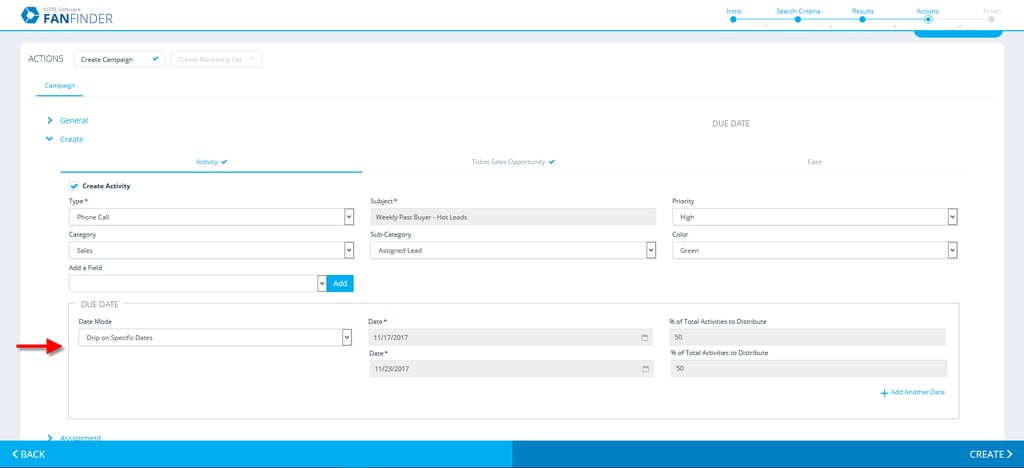 KORE is happy to announce that we have officially added SeatGeek to our list of supported primary ticketing platforms. All the same functionality within our existing Ticketing platform integrations has been replicated for SeatGeek and an exciting roadmap of additional functionality is on the horizon in 2018.
SEE THESE NEW FEATURES IN ACTION
The ability to notify & take action on approval workflow steps via Email has been completely overhauled to enhance the functionality and overall experience in this area.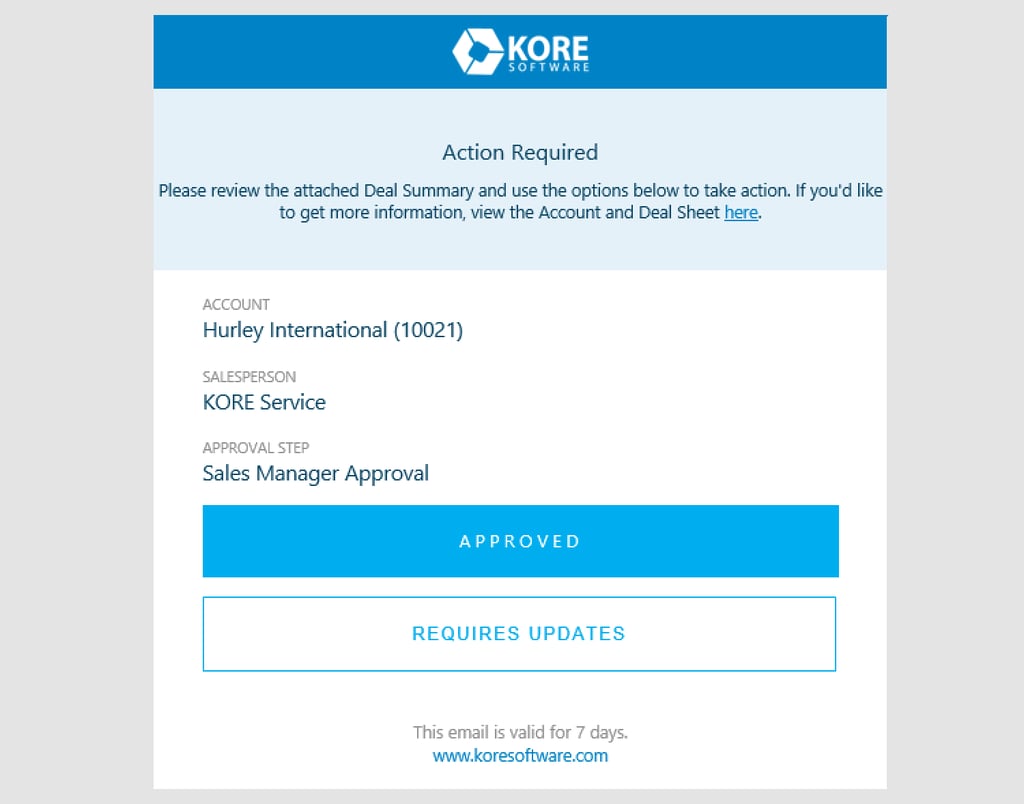 We have recently expanded our ability to send transactions and reservations directly into Archtics from our KORE modules. This functionality now exists within our Suites & Premium product to allow you to take Premium Deals and transact them directly in Archtics to keep your staff operating in a single system. During this update, we have also added the ability to validate availability of locations directly from the KORE Visualizer.
A direct integration with Docusign and Adobe Echosign has now been released within the KORE product. This integration allows you to take any document and send it to either E-signature platform directly from a KORE Deal record. Once a document has been sent to Docusign or Echosign via KORE, you'll be able to easily check the status of these documents from the Deal itself via the new E-Signature Document grid that is added once this feature if turned on for your organization.

We hope you're ready for this new functionality as we're hard at work on the Winter 2018 release.
If you're a customer and have any questions about these items or other new features, please reach out to your success manager.
Not quite ready to see a demo? Speak with a KORE expert to see how we can help solve your challenges.