If creating sponsorship recaps takes you countless hours, keep reading.
The four new Advanced Delivery features in KONNECT make it easier to capture the true delivery of each asset. By tracking deals as they are delivered, you save time and effort pulling recaps, create alignment between internal teams and partners, and leave more time to identify new sales opportunities.
The Challenge: Representing the Deal as it is Delivered
Often what is sold in a sponsorship deal is not exactly what ends up being delivered. It is common for delivery details to be determined later or for multiple unplanned deliveries to happen per event. These unplanned deliveries do not include "make goods" or "bonuses", which are already included in our system, but rather they are the extras that naturally occur when activating an asset.

For instance, a single digital campaign asset may be sold but can turn into 20+ deliveries if the details are not specified during contracting. Now it is time to deliver, and you are stuck manually tracking those 20+ unaccounted deliveries in a spreadsheet, limiting visibility for partners and internal teams. However, imagine if you had a system that turned your manual process into a few easy clicks. With every detail of each delivery - planned or not - in one system, you can create partner alignment and pull sponsorship recaps in less time.

CLIENT SPREADSHEET EXAMPLE (before)

KONNECT SYSTEM (after)

The Solution: Flexible New Features & Benefits
The new Advanced Delivery features make it easier to ensure partners have detailed proof-of-performance on each asset, details of how and when it was used, which channels it ran on, and how they ultimately performed.
(A) Flexible Quantities: Unlink from the contracted quantity and add/remove as many deliveries as you need. Additionally, you can tie multiple records to the same event. Document the contracted quantity, while also having the flexibility to tell the whole story of what was delivered and create sponsorship recaps faster at the end of each season.
(B) Channels: Label a record to better understand and track "where" it was delivered. For instance, was it on Facebook, Twitter, or a player appearance? These metrics are important data points to report so you understand what is working and proactively adjust what is not.


(C) Campaigns*: Create campaigns and group related assets to accurately track which deal they belong to and easily provide detailed, partner-ready recap reports.
(D) Performance Metrics*: Log impressions, engagement, and metrics for performance insights, fast. Get real-time analytics to actively adjust strategy and maximize partnership value.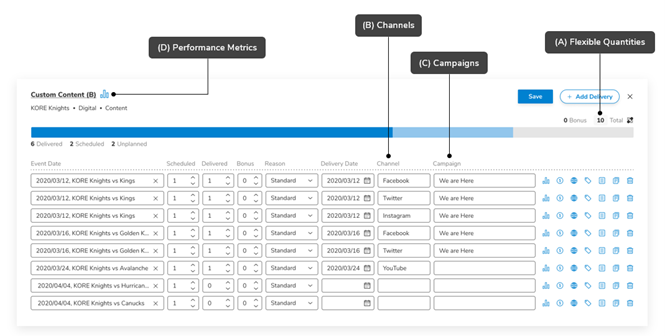 *Features will be available Q4 2021.
Start Simplifying Your Sponsorship Recaps Today
Already have KONNECT? Awesome! Contact your Customer Success Manager to learn more and start using these new features today. If your organization does not have KONNECT and you want to see these features in action, request a free 1-hour demo here.

Leonella Baudino // Product Marketing & Communications Manager, KORE Software

Patrick Westbrook // Product Owner, KORE Software