For sports business professionals, nothing quite compares to the energy behind the scenes leading up to a new banner year. With the start of the season approaching for the NFL, NBA, and NHL, sales departments for these properties are buzzing as they revisit their strategies and goals for the upcoming season.
Although everyone has their own methodologies and tactics, lead segmentation is a common practice across all teams looking to optimize their outreach. We've highlighted three key components to consider when exploring new criteria to improve your lead lists.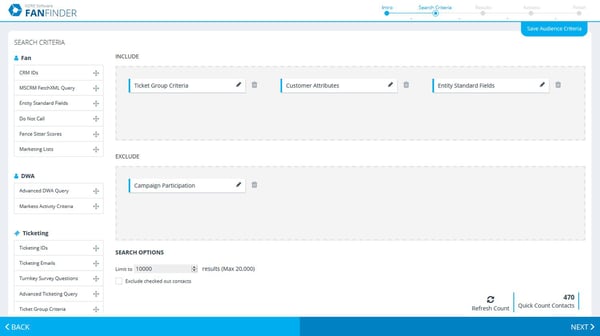 Expand Your View of Purchase History
Observing not only ticket sales purchase history but also all other interactions within the organization can help generate warmer leads and contribute towards more efficient marketing efforts. Here are some examples of purchases and fan interactions you may consider leveraging:
Spend amount
Spend type (e.g., retail, F&B, primary and secondary ticketing)
Preference of visiting teams
Preference of visiting players
Game tiers
Email marketing activity
Social media engagements
Example Campaigns:
While focusing on group sales this season, email those that have an HR job title (see below).
If a prospective customer's favorite player is playing against your team, tailor a mini-plan offer that includes those games.
When marketing an upcoming concert, include past buyers who attended a show in a similar genre.
If a customer has a high spend on F&B, reach out with an opportunity to upgrade to an area of the stadium with F&B built into the ticket package.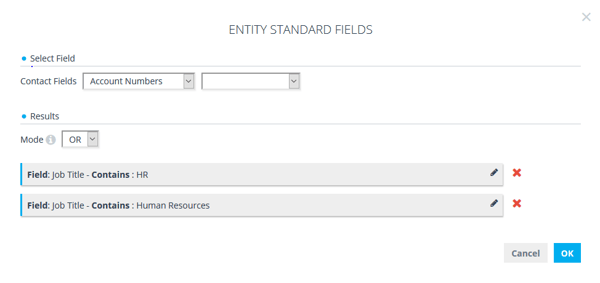 Embrace Your Digital Data
From a more technical perspective, email and web page behavior with lead scores (e.g. LiveAnalytics or Turnkey) can really help quantify the different types of fans and content-consumers that exist in the market. Email marketing and social media reports can direct teams towards their most engaging fans. Dive deep into your data and ask questions like:
What type of emails/posts are getting the most interactions?
How long after games/events are fans filling out surveys?
Where are my fans coming from?
Example Campaigns:
Review email open trends and keywords in the subject line to estimate the optimal time of day your fans are reading and engaging with your email campaigns and align future messaging to the keywords that performed best.
Immediately engage with contacts who have submitted a download form on your website with a related piece of content you think may be of interest.
Use digital behavior to prioritize leads that otherwise fall into the same overall plan score based on your appended data.
Face Objections Head On
Just as important as it is to learn why people are purchasing tickets, it is equally as important to track why people did not purchase. Often fans will cite team performance or cost as reasons for not attending. Now, objections to purchasing are difficult to overcome, but that doesn't mean they can't be approached again. Recording details from these sales conversations might sound tedious today but can prove to be valuable in the future.
Example Campaigns:
If a past objection was team performance and you have a good incoming draft class or have traded for exciting new talent, re-market to this group.
If cost was the past issue, try splitting the season into smaller flexible plans with F&B credit and reach back out.
Analyze all of your past objections to see if there are any you simply haven't been able to overcome, and use that to further filter new lists to those more willing and ready to buy.
---
Bonus! Additional Data Points To Collect
If you are not already collecting or tracking these data points, consider taking the following into account since they can have a positive impact on your segmentation strategy:
Objection to purchase
Favorite players
Favorite team or opponent
Favorite acts (e.g., music genre, artists, type of act)
Job title
Total spend (e.g., combining ticket sales, retail, and F&B spend)
Postal code
Distance to venue
Slicing and dicing an existing database with new criteria allows sales teams to not only improve their lead lists, it provides the data needed to optimize messaging and target audiences moving forward. One of the challenges in this process is figuring out how to effectively leverage the data you're collecting, so we recommend setting goals and expectations upfront to help prevent you from getting lost in the weeds as you determine what metrics are most important to your success. Start small with a high-level perspective and as you gain insight, trends will start to reveal themselves.
Interested in using KORE's Fan Finder segmentation tool to help built more effective target segments? Click here to learn more about the KORE Ticketing & Fan Engagement product.
Today's post was courtesy of Noelle Fanella, Product Manager, and Jordan Rutner, Insights Analyst.